Below is some valuable Information on how xLobby renders DVD video playback externally, by using a program called Graphedit you can create specific filters based on different codecs, using these graph files can provide consistant and reliable playback everytime you use xLobby. xLobby enables users to be able to select these external filters like the AC3 Filter to support many different codecs and use the one you want to render video or audio.
xLobby uses a directshow based media player engine and thus Xlobby's media player can use external graph files that support the direct show player to process and render different Audio & Video codecs. xLobby Ver 2.0 hardware currently uses Versions of Cyberlink Power DVD5, 6 codec for reliable DVD Audio-Video playback. By selecting F2, then Media Player different graph files can be selected. By selecting default, xLobby will use the current default codec that windows is currently using and not use xLobbys graph files to render video playback. We are creating different graph files for users to select from. We have created a few using the AC3 filter available for download below. Users who are interested in creating there own graph files to insure proper playback in xLobby using a certain codec installed on your system can download the graphedit software to experiment and modify or create your own.
Cyberlink Ver 6.0 + AC3 Filter Graph file for xLobby: cyberlink-powerdvd6-ac3filter.grf
AC3 Filter Download: http://ac3filter.net/projects/ac3filter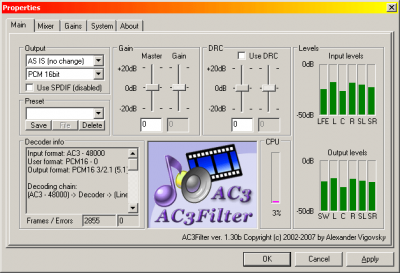 Screenshot of the AC3 Filter interface, Written by Alexander Vigovsky
More Information on Graphedit:
http://www.rage3d.com/board/showthread.php?t=33792569
Graphedit Information From Wikipedia:
http://en.wikipedia.org/wiki/GraphEdit
Graphedit (Free Version) Download:
http://www.digital-digest.com/dvd/downloads/showsoftware_graphedit_141.html
Graphedit Plus (Commercial Pro Version) Download:
http://www.thedeemon.com/GraphEditPlus/
Screenshot of the Graphedit interface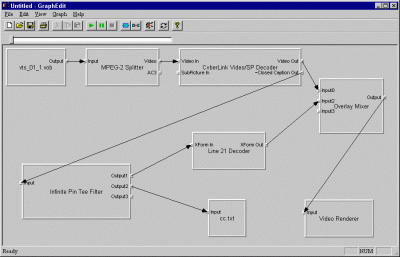 For further discussions on this topic please post them in the forum thread below. If you create a filter to work with a certain codec and would like to share, you can post them here as well.
http://xlobby.com/forum/viewtopic.php?f=23&t=6150
PowerDVD7+AC3 Filter Graph file: cyberlink-powerdvd7-ac3filter.grf
Here is a couple of helpful utilities that might help users to determine which codec your os is really using.
For XP:
http://www.microsoft.com/downloads/details.aspx?FamilyID=de1491ac-0ab6-4990-943d-627e6ade9fcb&displaylang=en&Hash=anNrhazsSKte0oaBPMDDmxCHk6aeVypKWvkP9y06EIhfo7v6BzEpHcORGMlirhijhhF1xtopL0wRfZzTPhQffA%3d%3d
For Vista:
http://mediacenterexpert.blogspot.com/2006/07/vista-media-center-decoder-utility.html
Wes Black \ Calrad