The next V3 release will include some new features and bug fixes.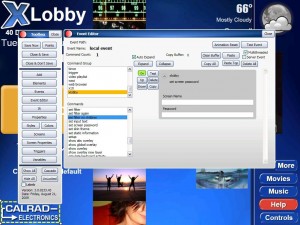 Event Editor Screenshot
New Features:
1. The (Paste top) button will past any events that are copied and put them at the top of the event list, the paste button by default will paste  new events at the bottom of the event editor list.
2. The (Auto Expand) check box when selected automatically expands any new commands that are added to the event list, such as the set screen password.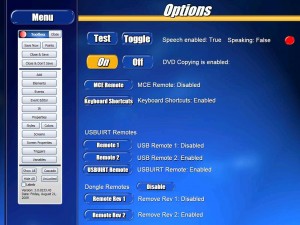 Options Menu Screenshot
Speech Options:
1. (Test) Selecting the test button will produce speech
2. (Toggle) The toggle button turns the speech engine on or off
3. (Speaking Variable to toggle a graphic image on\off)  %xlobby>speaking%
4. (Speech Enabled Variable) Speech enabled: %xlobby>speechenabled%
5. Speaking variable for (Text toggle on\off) : Speaking: %xlobby>speaking%
6. Speaking variable for (Image toggle on\off) : %xlobby>speaking%
MCE Remote
7. (MCE Remote) Enables or disables MCE Remote conrols
Wireless Keyboard
8. (Keyboard Shorcuts) Enable and disable Keyboard Shortcuts
This page is subject to changes and updates.
Wes Black