Calrad \ xLobbys new 95-1074TSR ZigBee RF\IR Universal Remote will be shipping by the end of April. Below are some technical details and screenshots of the manager control software and setup menus. Thru Calrads remote log-in support system we are able to help customers with any technical issues anywhere in the world with xLobby systems and the xLobby 95-1074TSR manager software. The remote supports up to 64 devices with up to 99 pages per device. The built-in IR code library supports over 200 different brands.
Brochure Download:
95-1074TSR Tutorial Video link:
http://www.xlobby.com/videos%20remotecontroleditortutorial
Programming Software for the 95-1074TSR, Download link (21.5mb):
http://www.xlobby.com/addondownloads/Calrad_xLobby_PCSoftware_0422.zip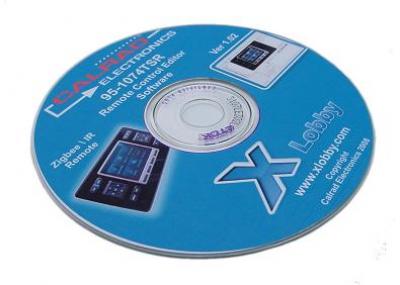 Illuminated Hard Buttons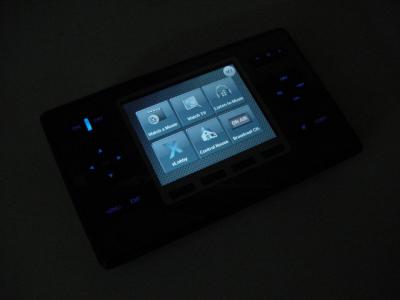 <><><>The Attractive looking Calrad 95-1074TSR provides complete control of your AV equipment, lighting, xLobby media center, music, movies, plus much more throughout your home! So go ahead, touch the screen and enjoy the comfort and conveniece of being in control. By utilizing ZigBee technology, our 95-1074TSR is a reliable controller that provides a wide indoor coverage with a simple touch. Multiple receivers can deliver IR \RS232 commands anywhere you want.

General Features
LCD


3.5-inch diagonal screen size
320 x 240 pixel resolution
Resistive type touch panel
Display Colors: 16.7M
Backlight: LED
Backlight color: White

LOUDSPEAKERS

INFRARED CAPABILITIES


Operating distance : 66 ft (20m)
Frequency Range Learning : Up to 455KHz
Transmitting LEDS: 4
Universal IR Code Database
Brands in database : Over 300
IR Learning

CONVENIENCE


Automatic power off
Clock with Calendar
Picture frame
Cursor key
Hard buttons
Hard Key buttons backlight LED : Blue color
Pick up sensor
Cradle

ACCESSORIES


AC/DC Adaptor
CD-ROM
Docking Station
Printed User Guide
USB cable
Warranty Card

SYSTEM REQUIREMENTS


CD-ROM drive
Hard disk space: 250 MB free
PC OS: Windows 2000, XP, Vista

RF CAPABILITIES


IEEE ® 802.15.4 Standard, WiFi (Option)
ZigBee PRO Stack
Communication: 2-way
Frequency: 2405MHz ~ 2480MHz
Operating distance: 100ft (30.5m)

CUSTOMIZATION


Full screen configurability
Alpha-blending
Macros: Up to 250 steps
Database: Configurable personal
database, Brand, Model number based.
Sound: WAV format 44kHz, 16bit
mono

SYSTEM SPECIFICATIONS


CPU : Samsung ARM9 400MHz
NAND Flash memory : 128MB
SDRAM : 64MB
OS : Windows CE 5.0 Core
DIMENSION

Product dimension (W x H x D) :
160 x 95 x 22.7 mm
Product weight : TBD
POWER

Type : Rechargeable Li-Polymer 1800mAh
Charge time : 3 hours
Active : over 5 hours Power switch : Power on/off
Operating button : ON. OFF. CH+. CH-. INFO
VOL+.VOL-. Function Key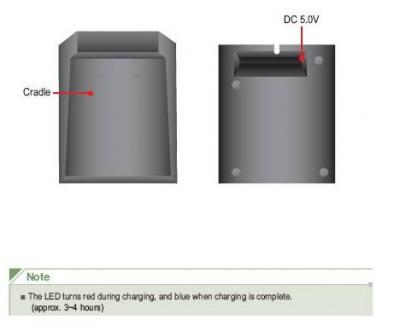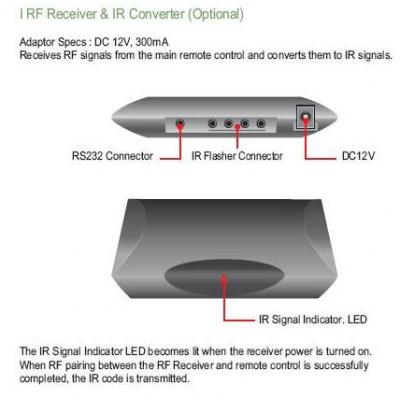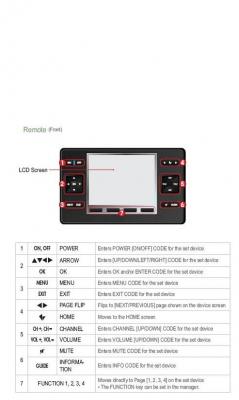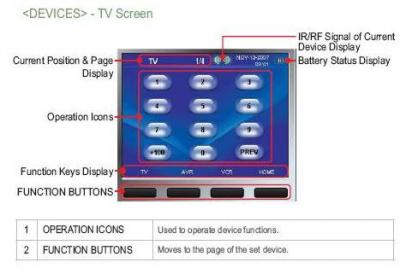 95-1074TSR Home Menu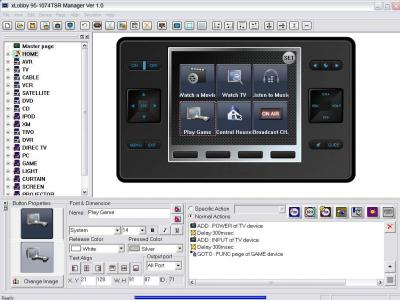 95-1074TSR Broadcast Menu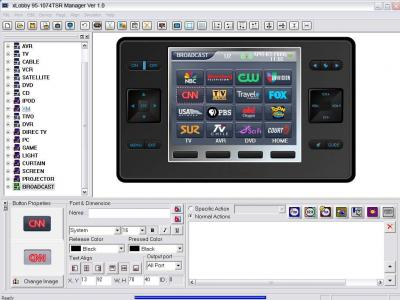 95-1074TSR XM Menu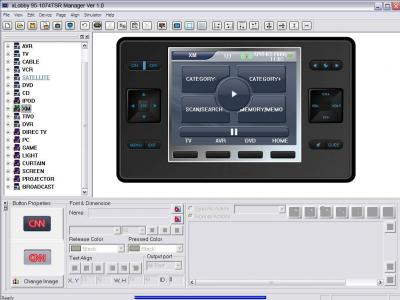 95-1074TSR Satellite Menu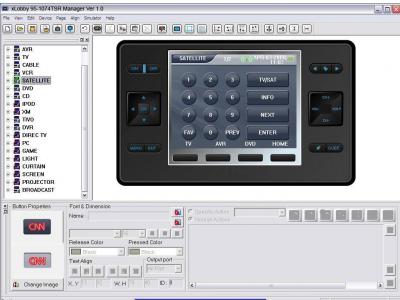 Brand Code Setup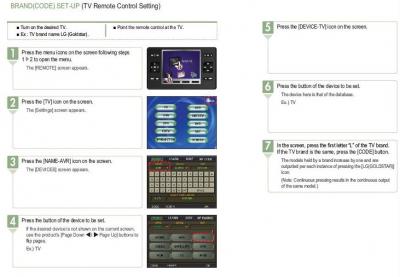 Operating Setup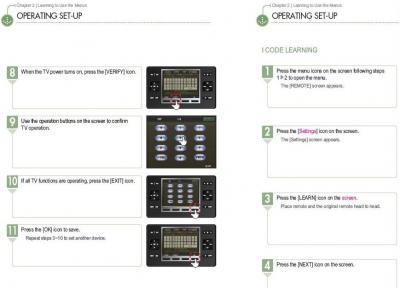 Direct IR Learning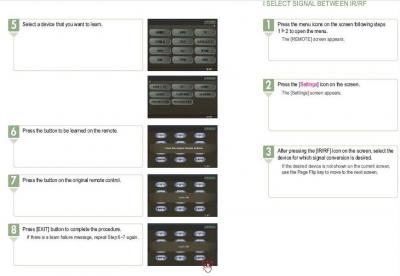 IR-RF Transmission Selection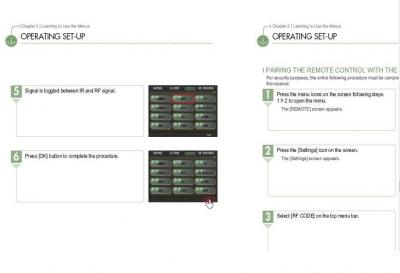 Current Device support for these brands built-in.
Wes Black