Using xLobbys xcontroller service you can control any RS232 device with full 2 way communication, any xLobby hard wired clients or wireless xLobby webtablets that are connected to the network has access to the resources of Xantech hardware. One way communication is also available directly from the core resource events (RS232) in xLobby without using the xLobby xcontroller service. We will be adding basic control menus for Xantech to be included in future releases of xlobby this will assist users in setting up Xantech hardware quickly for xLobby to control.
xLobby Basic Xantech control  menu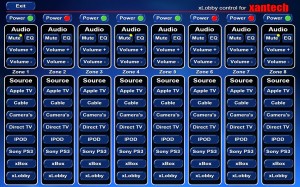 The settings below mut be properly setup in order for the xLobby xController service to communicate with the Xantech MRC88M Controller/Amplifier.
xantech rs232 project settings, com port settings
1. xantech's rs232 router enable, checked
2. router's default port enabled, checked
3. default router port 1
4. router port 1
5. 9600-8-N-1
6. Process RS232 Input, checked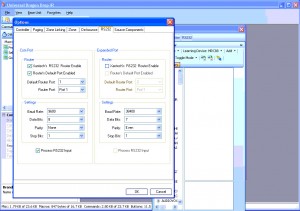 Xantech Dragon Drop RS232 Setup Screenshot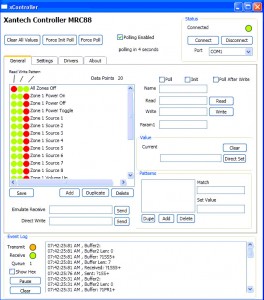 xLobby xController Sevice Screenshot communicating with the Xantech MRC88M
Xantech MRC88M Eight Zone/Source Audio/Video Controller/Amplifier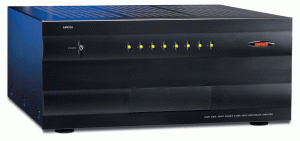 Front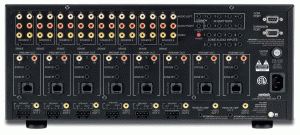 Back
The MRC88M is an eight-source, eight-zone A/V distribution amplifier that allows the control and distribution of eight separate source components to eight different zones, with the capacity to expand to up to sixteen zones of control and distribution. It allows control of source components through both RS232 and IR.
Features:
Eight Audio inputs
Eight Video inputs
Eight zone-specific outputs
Expandable to 16 zones
Six Zone built-in amplification
Controllable through SPLCD SmartPad LCD™ as well as dedicated MRC88 keypads
Easily programmed through Universal Dragon-Drop IR™ software
Programmable macros allows simplified device control
Intelligent Power Management for positive device control through video and current sense on _all 8 source      inputs
16 routable IR ports
Two routable bi-directional RS232 ports
Also available in 230 VAC / 50 Hz.
RS232 Codes: http://www.xantech.com/products/av_distribution/MRC2%20RS232%20Comm.pdf
Using the expansion port from the MRC88M  provides communicaion to connect either Xantech HD44C (4 x 4) or HD88C (8 x 8) component video matrix switchers.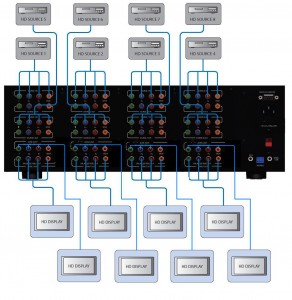 Front
Source Loop-Through Connection
The source inputs are buffered to provide an output at the same level as the input; i.e. Unity Gain (assuming a 75-ohm termination is on the output). Use these connections for HD88 expansion systems. The buffers are an active circuit. The HD88 must be powered on for an active connection. The jacks are color-coordinated to match the HD source component output color scheme.
Source Inputs
These are Gold-plated RCA jacks providing a connection from the output of a source component to the video matrix switcher. The jacks are color-coordinated to match the HD source component output color scheme.
RS232 (Serial) Commands and Expansion
The RS232 Port is bi-directional. The communication parameters are set to 9600 Baud 8-N-1. The 8-Source, 8-Zone HD Video Matrix Switcher can be expanded into larger systems. By using any using multiple (up to four) units, a larger High-Definition distribution system can be created for up to 32 Zones of Component Video and Digital Audio Distribution. The expanded units must have their own unique address. The included RS232 expansion cable allows the units to be daisy-chained via the RS232 control ports. This is done by connecting the SERIAL LINK port of the master to the XANTECH COM PORT of the other unit. The XANTECH COM PORT of the master is utilized to provide control of the entire system. Note that the Master is the main controlling unit. This unit is in charge of coordinating the communications between all expanded units. It is identified as the master by the unit address assigned to it.
IR Bus
The IR-IN port utilizes a 3.5mm mono jack. Use this port to connect to an IR emitter output port of a Xantech connecting block.
Specifications
Specifications

Manufacturer:

Xantech

Manufacturer Product No.:

HD88C

UPC:

042777316243

Dimensions:

17″ W x 7 3/4″ D x 5 3/4″ H

Weight:

16.6 lbs

Power Supply:

120VAC, 0.25A, 50-60Hz, cord included

Temperature Threshold:

Up to 55° C

Remote Controllable:

Yes, via IR (remote control included) and via RS-232 commands

Video Input:

Component Video YPbPr (YCbCr); unit features gold plated RCA connectors

Audio Input:

SPDIF PCM Coaxial; unit features gold plated RCA connectors

Active A/V Loop Thru (for Expansion)::

Gold plated RCA connectors

Resolution Support:

1080p, 1080i, 720p, 480p and 480i

Video Output:

Component Video YPbPr (YCbCr); unit features gold plated RCA connectors

Audio Output:

SPDIF PCM Coaxial; unit features gold plated RCA connectors

Output Distance:

250ft (76m) maximum
Xantech website: http://www.xantech.com/
Wes Black